Browse though our Catalog
for in stock items or contact us for a custom order.
Many sizes to choose from!
Length: 9" to 35"
Width: 5" to 14"
Thickness: 1" to 2.5"
* All depends on individual board!
STYLES of Boards -See Catalog for in stock items!
* Cutting Boards, Cheese Boards
* Charcuterie Boards
* Butchers Blocks
* Baguette/Bread Boards
*
Cake Stands 10"- 17"diam.
WHY NOT: Engrave Your Board - See Catalog to purchase
* Bride & Grooms, Name & Date
* Family Name or Initials
* Simply Heart with Initials
* Special Quote
* Company Name
* Etch a Tree/Branch with initials in tree
* Family Crest/Designed Logo
* Ideas are endless!
Wood vs. Plastic Cutting Board
People assume all cutting boards are alike, and may not give much thought to size or material. If you've been using the same cutting board for every dish, or if you've simply never considered the difference between a wood or plastic board, we're here to correct your ill-informed ways.
Contrary to popular belief, plastic cutting boards are not automatically safer than wood. Studies have shown that wood can actually be more sanitary in the long run. People assume that because wood is a porous surface and plastic isn't, plastic boards are more resistant to bacteria. This assumption doesn't take into account the scars a plastic cutting board will get from daily use.
According to Rodale News, expert Dean O. Cliver, PhD from University of California, Davis, conducted research on the subject and found that wood cutting boards contained less salmonella bacteria than plastic. On wood cutting boards, the bacteria sank "down beneath the surface of the cutting board, where they didn't multiply and eventually died off." On plastic boards, however, bacteria got caught in knife grooves that were near impossible to clean out, whether the board was washed by hand or dishwasher. So while sparkling new plastic cutting boards might be easy to disinfect, any weathered plastic board will hold onto bacteria.
There's still much debate on the matter, and the FDA's official opinion is that both wood and plastic are safe so long as they're cleaned well and replaced often. When boards "become excessively worn or develop hard-to-clean grooves," -- we're looking at you, plastic -- you need to get new ones.
If both wood and plastic are prone to bacteria if not properly cared for, it comes down to preference and longevity. We prefer a hard wood cutting board -- like maple or walnut -- because it won't scar as easily as plastic and you won't have to replace it as often if you are diligent about upkeep. (Be sure to always wash and dry your board well, and also lightly rub it with mineral oil & bees wax to prevent moisture and bacteria from seeping in.) Furthermore, not only will your wood board last, but it will also help your knives last, because hard wood boards won't dull your blades as quickly as plastic boards will.
Ultimately, whether you use wood or plastic, the best method for ensuring safety is to use separate cutting boards for raw meat and poultry, and for your vegetables, fruit and prepared food. This limits cross-contamination, which is the biggest danger of all.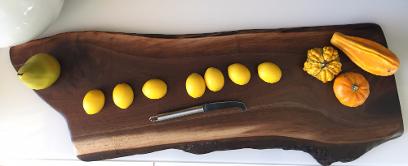 Excellent gift idea for any occasion
Wedding, Birthdays, Anniversaries, Christmas, Mother's/Father's Day, Corporate Gifts for Clients, Golf Tournaments-Prize Tables, House Warming, the grill master....
Whether you are seeking something grand or modest, personal or practical, we offer a unique selection of live edge serving boards & cake stands to choose from.
Show that special someone how much you value them by selecting something as interesting and unique as they are.
Slideshow of past WALNUT Boards & Our Managed Forest
Our gourmet natural edge hardwood boards can be used as serving boards, cutting boards, wine & cheese boards, charcuterie boards or for bread/baguettes.
Walnut
Our walnut gourmet boards features one or two natural edges with a rich chocolate colour. It's natural weathering & imperfections give it a beautiful rustic character.
Cherry
Our cherry gourmet boards features one or two natural edges with a rich, warm cherry two tone coloration. They have a unique grain making a beautiful addition to your kitchen counter or table.
Maple
Our maple gourmet boards features beautiful defined warm cream & caramel contrasting wood grain.
Olive Wood - Exotic fr. Italy Have distinctive grain markings that may be straight, interlocked, or wild with curly & wavy lines. It is a cream or yellowish brown with darker brown or black contrasting streaks. Color tends to deepen with age.
Sealant Used
All boards are hand rubbed with a food safe beeswax & mineral oil sealant. We do not use any stains or dyes on our boards. The beauty comes from our sealant & mother nature!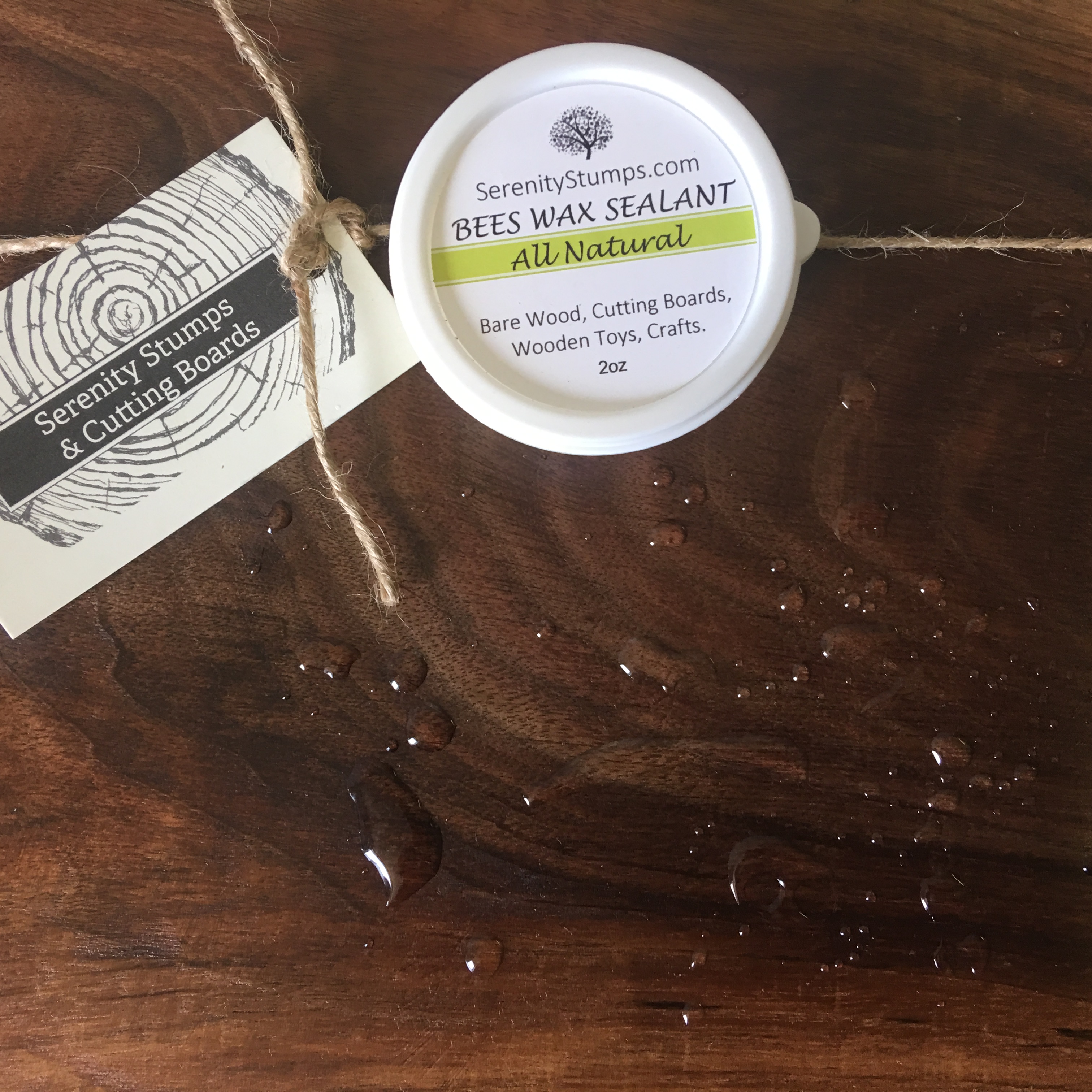 Instructions to Keep it Beautiful!
Hand wash & dry thoroughly after each use with warm soapy water
To keep the grain looking new, occasionally rub down with a food safe sealant like our bees wax & mineral oil.
* Do not put in dishwasher
* Do not soak in water or lay on a wet counter.
To Sanitize & Disinfect
Combine equal parts vinegar & water in a spray bottle. Spray evenly over board, wipe down, rinse with warm water and dry well with a clean cloth.
If your board has picked up any food odors (garlic, onions etc...) Use a lemon wedge, dip it in fine salt or baking soda and rub the board in a circular motion. Wash, rinse and dry well - then rub with the bees wax and oil again.
If you want to remove cut marks from the board to bring back to the original finish, lightly sand out the scratches with 120 or higher grit sand paper & re apply the wax/oil sealant.